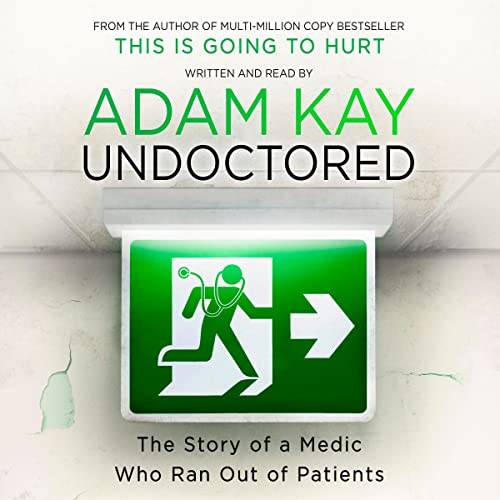 2022 has been a fantastic year for Adam Kay fans. The year kicked off with the release of the BBC TV series adaption of Kay's first book and best seller, "This going to hurt". Featuring the brilliant Ben Whishaw and sensational Ambika Mod, the series was an emotional watch, balancing laughter with tears, the lighthearted with the solemn, the show was just as good as Kay's novel, which is a compliment of the highest order. Autumn arrived and as leaves started tumbling off branches, Kay's latest creation hit the bookshelves of bookstores everywhere: Undoctored – The Story of a Medic Who Ran Out of Patients. 
As intriguing as the title sounds, nothing quite prepares you for the breadth and depth of his newest novel. Three long years since his last publishing ('Twas The Night Shift Before Christmas) and half a decade since his first phenomenal piece "This is going to hurt", the Kay we all know and love is back with another literary triumph. Returning in fantastic fashion, Undoctored is equal measures hilarious and heartbreaking, and its success cements Adam Kay amongst Britain's best-loved authors. But behind his characteristically sardonic tone and face-achingly funny anecdotes, Kay has invested more than his fair share of blood, sweat and tears. Cutting deep into old wounds, it is genuinely no understatement to say that Undoctored is his most honest and divulging book yet.
The Plot
Undoctored is the perfect follow-up to "This is going to hurt". Picking up pretty much where he left off, we follow Kay as he navigates the aftermath of leaving medicine. Swapping his stethoscope for a microphone and ward rounds for expectant crowds, we are given front-row seats to watch him forge a new career as a comedian and writer. It is interesting to note that his life is no less chaotic for having left the NHS. Kay takes us on a journey filled with doing gigs, scavenging for writing opportunities, and managing personal relationships. Indeed, it is this last section that makes up the majority of the novel. His relationship with his partner, his parents and his ex-wife's cat are all explored openly through Kay's specific brand of witty sarcasm.
The Structure
The structure of Undoctored has evolved from the diary format of his previous works. We jump between past and present, the journey through Kay's life, interspersed with flashbacks to his younger self. As a medical student, it is fascinating to observe how much and sometimes how little medicine in the UK has changed over the years. An Imperial Alumni, Kay's stories about life as a medical student became a fun "spot the difference" game. It's astonishing to think that in the past, medical students on GP placement used to live with their GPs! On the contrary, Introductory Anatomy sessions, despite the passage of decades, continue to shock 18-year-olds with the realities of a dead human body. Additionally, the occasional references to Imperial College landmarks and universal medical student experiences were much appreciated. Moreover, it is pleasing to note that Kay's experiences during clinical placements of consultants "teaching by humiliation" are for the most part confined to times of the past and act as a reminder for us all that such behaviour should be called out. Of course, it would not be an Adam Kay book if it didn't have copious footnotes. More than just clarifications or explanations of medical terms, the footnotes have taken on a life of their own, a personal favourite being the footnote devoted to Kay's humourous takes on the numerous health secretaries that have taken the post during his career.
The Prose
A review of Undoctored would not be complete without mention of its prose. Kay's writing is as sharp as razor wire and will have your eyes brimming with tears but whether those tears are from laughter or emotions depends on the chapter. Known for his wit, humour and ability to bring complex issues to life, Kay's knack for finding the humour in the most difficult of situations was definitely tested in this novel. One of the most excruciating anecdotes was his experience with kidney stones. Shared in minute detail, Kay's numerous failed attempts at achieving relief made the experience of reading that chapter almost as agonizing as the pain he went through. Overall, Kay's writing style is a perfect blend of humour and substance, and his ability to connect with readers on a personal level makes his books a joy to read.
For all the humour that is present in his books, Undoctored also explores some of Kay's darkest and most distressing moments. Talking openly about his eating disorder which he developed during medical school and a terrifying account of being raped whilst at a medical conference, Undoctored is his attempt to exorcise these demons in the only way he knows how. This is Adam Kay at his most vulnerable and wounded. Although these topics are covered with much candour and sensitivity, his descriptions are vivid and utterly realistic and thus might potentially be triggering for certain readers. In interviews about the book, Kay reveals how terrified he was about revealing these moments to the world, but by bravely keeping these chapters in the book, he hopes his openness will motivate others to seek help. (1)
Afterword
In the Afterword, Kay brilliantly sums up the key messages in Undoctored. Writing to his 18-year-old self, he lays out the realities of a career in medicine, not to repel his past self from going into medical school, but to make sure that a medical career is really what he wants. He talks about the NHS and its need for change to help future generations of medical students become the best doctors they can be. Finally, he talks about honesty to one's friends and family but most importantly to one's self because only through honesty can one live a life true to themselves.
Final Recommendation
So, in short, Undoctored is another absolute marvel. Extraordinarily funny, breathtakingly sad and yet utterly compelling, Kay's latest novel is an instant recommendation for fans of brilliantly crafted memoirs and would make a perfect gift for the medically interested and the general public alike.
References
1 – Kellaway, Kate. "Adam Kay: 'If You Were Casting Yourself, Wouldn't You Choose Ben Whishaw?'." The Guardian, Guardian News and Media, 18 Sept. 2022, https://www.theguardian.com/culture/2022/sep/18/adam-kay-this-is-going-to-hurt-ben-whishaw-undoctored-interview